Quentic Online Instructions
The Quentic Online Instructions module adds an e-learning component to the Health & Safety module. Create multimedia learning units that participants can access, regardless of the time and place.
The Quentic Online Instructions module helps you to flexibly conduct orientations, training and instruction. Make all information available in an appealing online presentation. Now there is no need for time-consuming date arrangements because each employee can independently integrate their training into their own daily routine. Instruction for guests and third parties are handled in the same way.
Whitepaper Contractor Safety Management
When companies choose to outsource work, they are still liable for health and safety. A safety management system supported by EHS software is an essential best practice for handling the safety risks associated with having contractors on a work site.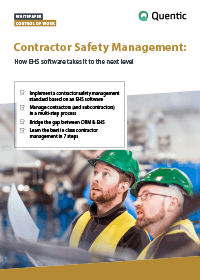 Quentic in 2 minutes
EHS for everyone. A custom-fit, digital solution.
Discover how Quentic can make EHS and CSR management easier and connect everyone centrally. The web-based software offers reliable support for all tasks in the field of occupational safety, environmental protection and sustainability.
Document digitally, organize, evaluate – Quentic saves you time and helps give processes a clear and understandable structure.
Try Quentic 14 days for free
"Quentic: Less stress. More quality."
Albrecht Bühl, Environmental Protection Manager, Siemens Schweiz AG