Quentic Health & Safety
The Quentic Health & Safety module helps you to reinforce health and safety in your organization. Comply with your legal obligations as employer or manager, therefore minimizing your liability.
Assess and improve existing working conditions, instruct employees to act responsibly, create unambiguous instructions, and make all information available where it is needed. To get all this done efficiently use Quentic – a software system, that is confirmed to be suitable for management systems as specified in ISO 45001.
Whitepaper ISO 45001
The new norm for health and safety management systems is replacing the previous standard OHSAS 18001. Learn more about how you can benefit from implementing ISO 45001, fulfill requirements and get your organization certified.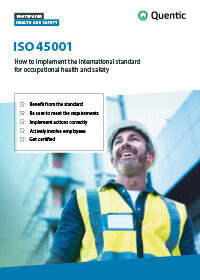 Quentic in 2 minutes
HSE for everyone. Digital and a perfect fit.
Discover how Quentic makes your EHS and CSR management easier and brings everyone involved together. The web-based software supports you competently in all tasks in the areas of occupational safety, environmental protection and sustainability.
Digital documentation, organization, evaluation — with Quentic you save time and structure your processes in a structured and comprehensible manner.
Quentic Demo
Test Quentic free of charge and without obligation.