Quentic Sustainability
With the Quentic Sustainability module, you can evaluate the social, ecological and economic aspects of your company. Create the basis for your stakeholder communication – and the decisions that will steer your company toward the future.
Efficiently organize reporting and connect participants through a shared system that strengthens the exchange of information and collaboration. Combine the indicator values from different departments without any extra effort. With the Quentic Sustainability module you get what counts – reliable evaluations based on complete and consistent data.
Whitepaper Sustainability Management
12 Key areas to benefit your business with structured sustainability management. Ways to systematically exploit stakeholder demands and influence as well market opportunities and how to align your corporate actions.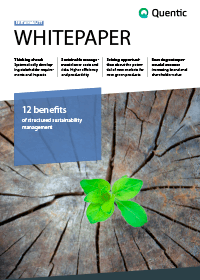 "We have created a solid foundation for our reporting of all ecological aspects of sustainability by implementing a centralized system. The effort required to record, verify and evaluate data has been reduced significantly since we can automatize many work steps with Quentic."
Markus Schönberger, Team Leader Sustainability Controlling, Voith GmbH & Co. KGaA

Quentic in 2 minutes
EHS for everyone. A custom-fit, digital solution.
Discover how Quentic can make EHS and CSR management easier and connect everyone centrally. The web-based software offers reliable support for all tasks in the field of occupational safety, environmental protection and sustainability.
Document digitally, organize, evaluate – Quentic saves you time and helps give processes a clear and understandable structure.
Try Quentic 14 days for free