Quentic is a modular, cloud-based software solution that you can use to easily keep track of all requirements in occupational and environmental safety, sustainability and quality. The numerous functions help you document, evaluate and control company processes, while bringing all EHSQ and ESG stakeholders together in a unified system. Use the browser-based Quentic Platform from your workspace or use the Quentic App when out and about.
Quentic gives you a central platform and connects all involved parties. Officially certified as suitable for ISO 9001, ISO 14001, ISO 27001, ISO 45001 and ISO 50001, Quentic saves you not only time, but also ensures quality and legal compliance. Instead of managing tedious lists, every employee can get involved in EHSQ/ESG processes with next to no effort.
From SMEs to large corporations, from manufacturers to service providers, Quentic is flexible enough to be a great fit for any company structure and industry. Globally active companies benefit from the multilingual software concept, which fosters collaboration and enables evaluations to be done across various countries. Get connected with us and our users in the Quentic Community!
Quentic lets you link EHSQ and ESG information from all parts of a company together with one another seamlessly. Pinpoint and assess your company's performance from various perspectives. Uncover unanticipated connections and discover new opportunities. Increase decision-making speed and control your EHSQ and ESG processes centrally.
Quentic is more than just data collection software: Bring together various EHSQ and ESG professionals and other stakeholders in a single system. Create seamless transitions between action items, both internally and externally. Increase awareness for occupational and environmental safety, quality and sustainability. With Quentic, everyone can stay up to date and pull together to get things done.
The easier the process, the quicker a goal is reached. As a leading software specialist, we strive to create clarity and provide orientation in a complex field and to promote exchange in the EHSQ/ESG community. We offer solutions that are perfectly suited to you and your unique daily tasks. We won't be satisfied until you are.
As a holistic solution, Quentic creates a lasting added value for your company. Along with our integrated approach, which is both functional and user-based, the modular software also offers a wide spectrum of use cases from which to choose. Scale up or down anytime! And always keep your finger on the pulse: Quentic is consistently updated to reflect the latest user feedback, cutting-edge research and technical standards.
Quentic in 2 minutes
EHSQ and ESG for everyone. Digital and a perfect fit.
Award-winning quality
Quentic has high standards for product quality and performance, something that has been verified by independent sources and benefits all our customers.
Named a "Leader" in the Verdantix Green Quadrant EHS Software Report 2023

Named a "Specialist" for ESG Reporting And Data Management Software by Verdantix

Software Hosted in Germany
The Quentic App
Mobile use for more comfort
Quentic – whenever, wherever and however you want!
Your mobile reporting channel for all things EHSQ and ESG-related. Send incident messages, audit results, risk assessments, and much more—all with your smartphone.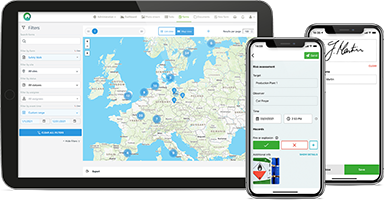 The system knows your tasks
And has the perfect solution for you.
Enthusiastic Quentic customers
In your industry too!
Regardless of whether you're a medium-sized company or a large corporation, Quentic software solutions are always the right fit. Over 900 companies from a wide range of different industries have successfully been relying on our globally tested system for many years.