Quentic Legal Compliance
The Quentic Legal Compliance module helps you correctly fulfill all the duties that arise from extensive ordinances within occupational safety and environmental law. Reduce your liability risk down to the absolute minimum.
The Quentic Legal Compliance module creates a path through the maze of legal texts and helps you determine where your legal obligation to act lie. At the same time, it offers an effective way to ensure that your company is taking a legally compliant approach. Consistent and current data makes sure you are always able to easily prove that all areas of your company are acting in compliance with the law.
Whitepaper Contractor Safety Management
When companies choose to outsource work, they are still liable for health and safety. A safety management system supported by EHS software is an essential best practice for handling the safety risks associated with having contractors on a work site.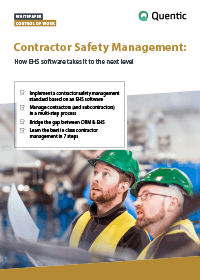 Quentic in 2 minutes
EHS for everyone. A custom-fit, digital solution.
Discover how Quentic can make EHS and CSR management easier and connect everyone centrally. The web-based software offers reliable support for all tasks in the field of occupational safety, environmental protection and sustainability.
Document digitally, organize, evaluate – Quentic saves you time and helps give processes a clear and understandable structure.
Try Quentic 14 days for free