Quentic Legal Compliance
The Quentic Legal Compliance module helps you correctly fulfill all the duties that arise from extensive ordinances within occupational safety and environmental law. Reduce your liability risk down to the absolute minimum.
The Quentic Legal Compliance module creates a path through the maze of legal texts and helps you determine where your legal obligation to act lie. At the same time, it offers an effective way to ensure that your company is taking a legally compliant approach. Consistent and current data makes sure you are always able to easily prove that all areas of your company are acting in compliance with the law.
Whitepaper ISO 19600
Ensure legal compliance along the entire value chain with a compliance management system (CMS) according to ISO 19600! Learn how to introduce the new standard, effectively carry out audits, and obtain certification.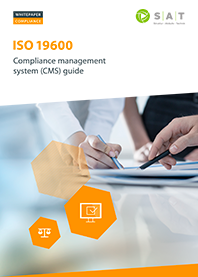 Quentic in 2 minutes
The tailor-made solution for your organization
Quentic is the ideal solution for your health and safety, environmental protection and sustainability management. Expertly grounded, the web-based software knows your tasks and unites all of the functions that you need.
Quentic Health & Safety Software assists you with all HSE and sustainability processes. Documenting, organizing, evaluating – with Quentic you're done in a jiffy.
Try Quentic 14 days for free