Mental health and the coronavirus crisis
How to recognize and prevent stress, anxiety and depression and correctly approach affected employees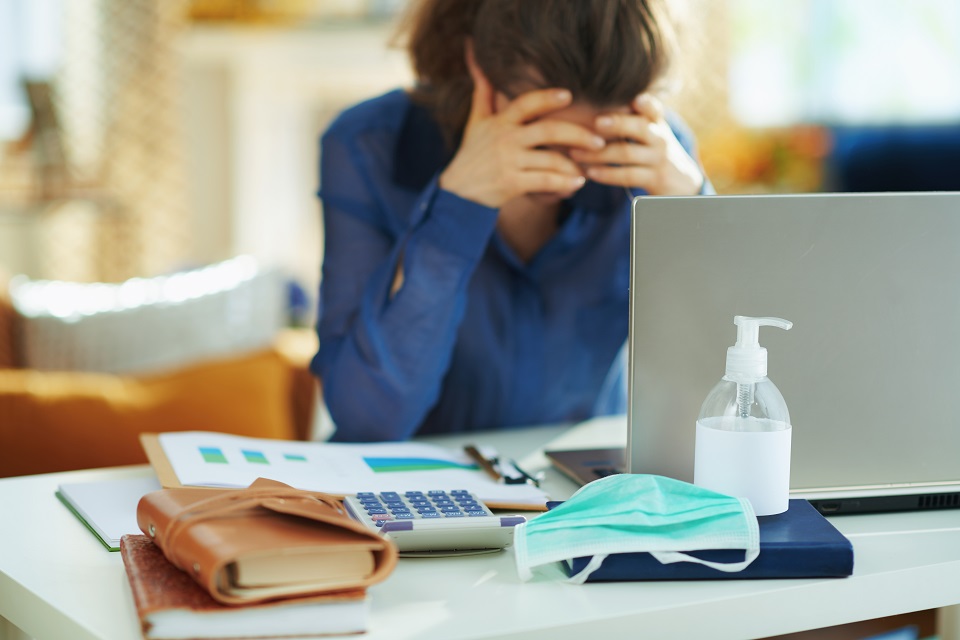 Social distancing, fear of catching the novel coronavirus and a lack of ability to plan for the future are affecting all of us. Current studies show that the number of people experiencing stress, anxieties and depression continues to increase. One thing is clear: To effectively protect your employees, you have to take psychological factors that influence behavior into account.
Managers and EHS experts should not just care for their employee's physical well-being, but also to do their best to protect their psychological well-being. But how can you actually detect signs of psychological strain in your employees on time? Many find it difficult to admit when they might be feeling helpless or overwhelmed, much less to talk about it openly. No one wants to be labeled as "mentally unstable or ill" and many may see it as a personal failure to be unable to cope with the current situation. An even larger hurdle has to be crossed for an employee to trust their colleagues and superiors with this information.
So how can managers and others responsible for occupational safety help people overcome these hurdles. How can they react at the first signs of trouble to prevent a worse situation?
When the crisis takes a psychological toll
What kinds of mental strain can the coronavirus crisis cause?
Mental strain can be as complex and unpredictable as any crisis. Causes can range from overload, for example due to an extra heavy workload, short deadlines or pressure to perform. A lack of enough work to do, short work or work that doesn't engage the employee's abilities can also cause stress on the psyche and have long-term effects on one's health.
Social aspects, such as conflicts or a lack of human connection can not only lead to psychic symptoms like exhaustion, depression and lack of ability to concentrate, but can also cause physical ill effects. Mental stress and tension often collect in the neck muscles.
In times like the coronavirus crisis, where workers who used to regularly work in an office now find themselves working within their own four walls, this unusual isolation and/or the constant presence of one's partner and child(ren) can often lead to the additional strain of loneliness or overstimulation. Numerous different fears and uncertainties can also arise: What level of infection risk do I have at my company? When and how will this situation get better? Could it get worse? Depending on the company's particular situation, financial concerns can also arise: Is my job safe? What is going to happen with the company in the coming months?
Preventing mental strain
What should companies do to prevent psychological strain during a crisis?
Managers and EHS specialists often also face the added pressure of needing to quickly recognize strain and work against it. They must quickly and flexibly strike out on new and unknown paths, especially when cooperation and leadership have to happen from a distance and employees need to work with technologies that are not usually part of their regular routine. Uncertainties associated with this can lead to mistrust and feelings of subordination among the workforce. That's why it's even more important to approach things with sensitivity, empathy and trust, because while employees are making an effort to continue their work in an unusual situation, they can quickly reach their limits.
Nicole Scheibner and Alexander Tirpitz recommend that managers actively figure out what uncertainties and questions their team has in this situation. They should also be having regular one-on-ones with individual employees, and ask each of them how well they are able to cope with the situation and how the company can better support them. You should never wait for employees to come to you themselves with problems. The strongest recommendation is to approach this proactively. Among other things, this means making the work itself as low strain as possible and to create a virtual space for breaks, questions, team and individual problems. "When you aren't seeing your employees regularly, you should not assume that everyone is coping just fine. Take time to ask questions and handle the technical and organizational aspects needed to make employees' work as efficient and normal-feeling as possible by providing the equipment and the instructions they need," the experts recommend.
Balancing expectations and reality
Employees should be able to structure their workdays as close to normal as possible, stick to their usual routines and keep a healthy separation between their work and private lives. Additionally, managers should do their best to ensure that employees' concentration levels are not overloaded by multiple calls, emails and video chats. The best-case scenario is transparent communication regarding who is available when with partners, customers and the team itself. This lets employees use block of times for concentrated deep work and breaks.
Especially in difficult times, it is important to make the digital space as close to the "normal" world as possible and work towards strengthening relationships with one another. By regularly communicating and making group decisions, everyone will feel heard and seen and misunderstandings can be discussed right away. Scheibner and Tirpitz recommend that managers ask for their employees' understanding that changed working times due to childcare or shift work mean that everyone is not available as usual and help employees to estimate when they need to stop so they don't overload themselves.
Proactive communication during the crisis
Anticipating employee worries and fears for the future
Crisis arise suddenly, and the end or calm of the storm is not always in sight. Managers should always strive to give their employees the feeling that their fears and worries are being heard and addressed with targeted, proactive communication. The EO Institut experts advise: "The following should be your guiding words: Look where you're going! Only communicate the things you can really see and evaluate. If you can only plan for a certain amount of time, then only make prognoses and agreements that pertain to this time. Communicate what actions are in place for what time periods. Honest and realistic communication is absolutely essential: Don't make things sound more dire than necessary and incite needless fear, but don't make light of the situation either. Paint a clear, transparent and understandable picture of where your company is right now and what the plan is."
Best Practices from the coronavirus crisis