Whitepaper ISO 45001
Do not miss OHSAS 18001 to ISO 45001 switch. How to implement and get certified!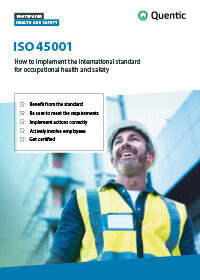 Contents of the whitepaper
From better legal compliance and fewer lost workdays to a more motivated workforce and increased productivity: Occupational health and safety has a lot of advantages. As of March 12th, 2018, there is a new internationally standard for occupational health and safety management systems: the ISO 45001, which is set to replace the previous OHSAS 18001 standard by 2021.
For companies currently certified according to OHSAS 18001, this will mean structural changes, modifications and several additional requirements. Companies that are not certified should consider implementing ISO 45001. The standard follows a High-Level Structure and is therefore relatively easy to implement into an integrated management system. Though the new ISO 45001 is based on OHSAS 18001, it takes a much more comprehensive approach by emphasizing the context in which organizations operate, observing working conditions along the entire value chain and putting the spotlight on both risks and opportunities for improvement.
In this whitepaper on ISO 45001, you'll learn how to:
Utilize the advantages the standard offers;
Ensure that you fulfill requirements;
Implement actions correctly;
Actively engage your workforce
And get certified.