Professionalized handling of COVID-19 frees up focus for other strategic topics, such as digitalization and sustainability
Quentic's latest Safety Management Trend Report presents the perspectives of internationally renowned experts and shares the views of more than 500 occupational safety practitioners
Positive perception of occupational health and safety consolidated: 3 out of 4 professionals surveyed experience more appreciation and support now than before
Panel of experts calls for special attention to be paid to psychological stressors
Requirements for integrated responsibility management prompting greater investments in occupational health and safety: 40% of respondents say ESG criteria are a key driving factor

For the last two years, occupational health and safety has been the focus of unprecedented attention. Professionals in the field have been forced to contend with a global pandemic. The constant oscillation between strict precautions and wary returns to 'normality' increased both the pressure on EHS managers and their workload, but also raised appreciation for their day-to-day efforts. That was one of the key findings of the Safety Management Trend Report 2021. The industry report is published annually by Quentic, one of the leading providers of software as a service solutions for health, safety, environment, sustainability and quality management. To compile its trend outlook for 2022, Quentic looked at the extent to which these developments will continue to influence professionals and the field at large. In addition, the Safety Management Trend Report 2022 discusses how strategic influences such as environmental, social and corporate governance (ESG) criteria and digitalization will shape occupational health and safety in the future.
Quentic's editorial team conducted interviews with eleven internationally renowned experts. Among the experts surveyed are David Cant, Chartered Fellow of the Institution of Occupational Safety and Health (IOSH), Davide Scotti, HSE expert and Secretary General for the Leadership in Health and Safety (LHS) Foundation, and Jop Groeneweg, researcher and lecturer at various Dutch universities and at the TNO Research Institute for Applied Scientific Research. To complement the expert perspectives, more than 500 occupational safety practitioners from across Europe submitted their opinions on the most prominent trends and developments, ranging from digitization and the influence of the COVID-19 pandemic to the growing relevance of ESG criteria.
More appreciation for occupational health and safety – a lasting change?
The survey for the Safety Management Trend Report in 2021 revealed that the coronavirus pandemic brought with it not only challenges but also an increasing positive perception of the occupational field. The main question the 2022 Safety Management Trend Report sought to address was therefore whether this awareness and appreciation could be sustained. The results largely confirm this: three out of four respondents agree that occupational health and safety is receiving greater recognition and support at their companies in general, or at least in some areas. In large companies, the proportion of people who unreservedly confirm a positive change is even higher than in smaller organizations.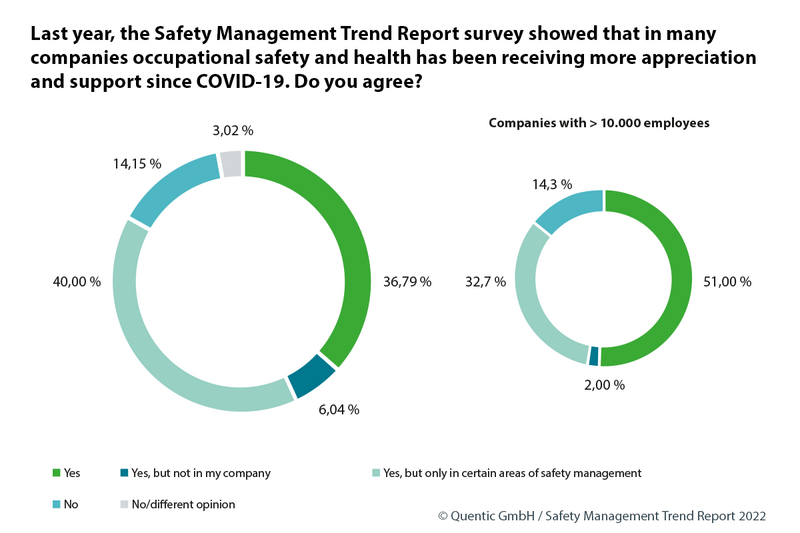 Respondents are also confident about the future. Overall, more than half of the specialists and managers surveyed are optimistic and think that occupational safety and health will continue to gain in importance or consolidate at an increased level.
Psychosocial stress remains a focus topic
Despite the positive outlook, the expert panel points out that occupational health and safety must pay particular attention to mental stress. The dissolution of boundaries between professional and private lives, the shift to working from home, a lack of social connection and increasing fears surrounding infection all impact employees' mental health. Awareness of this topic and skilled leadership are required in response, because the consequences of the pandemic and also the shift to more mobile working styles reinforce the need to prevent mental stress in the workplace. Human factors in particular, such as good leadership, social bonding and compensation for stressful situations, will play a decisive role here.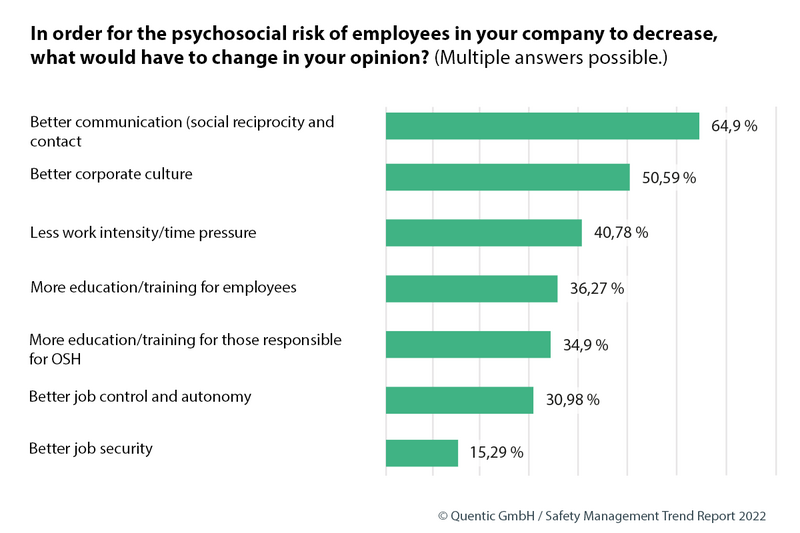 Implementing these measures has proven to be a major challenge given the shift towards working from home and social distancing in general. Occupational health and safety professionals have already recognized this and wish to further expand their competencies in these areas. However, it is also becoming clear that the responsibility for preventing mental stress cannot rest on their shoulders alone. Management, safety professionals and other employees will only be able to overcome the tasks and challenges this year will bring by working together.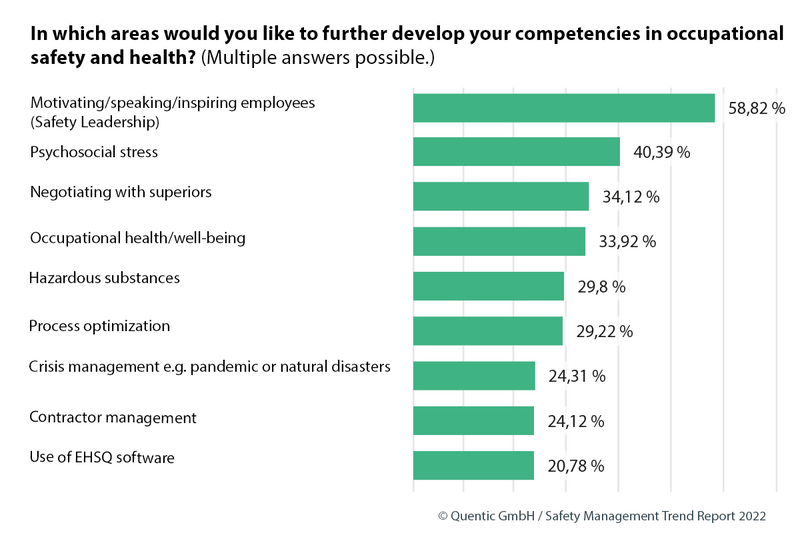 Standard processes in occupational safety are becoming more digital
The increasing digitalization of work in general continues to present both opportunities and challenges, as does the digitalization of occupational safety and health itself. Trends that already emerged last year, such as remote auditing, online training and digital risk assessments, are likely to remain key topics in the year ahead. The digital upheaval is particularly plain to see in the areas of risk assessments and training. However, the need for digital assistance and optimization is far from being fully met and will continue to grow in 2022, especially in relation to incident management, contractor management and visitor management.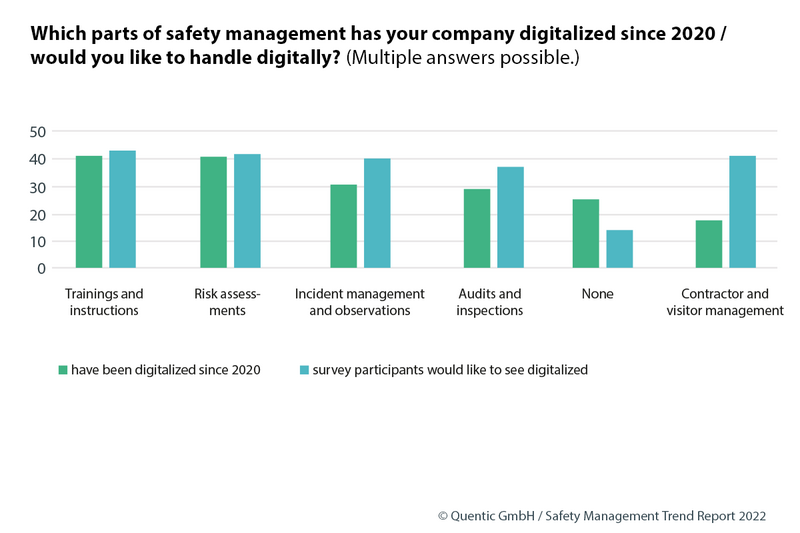 However, the expert panel also points to more far-reaching changes in the digitalization of occupational safety. On the one hand, they emphasize how the use of wearables and sensors, for example, can increase work safety. On the other hand, they also point out that the increasing, human-machine interaction in high-tech workplaces could lead to new hazards. They see great opportunities, particularly in regards to interconnecting work processes, which is more possible than ever due to the new 5G telecommunications standard, and the use of artificial intelligence for occupational safety. However, they also point out that legal foundations still have to be created in some cases before a safe, healthy and therefore productive application of such new technologies can become the standard in the field of occupational safety and health.
Occupational safety and health partnered with sustainability
This year's Safety Management Trend Report makes it increasingly clear that occupational safety and health must be viewed in an integrated context with all other corporate processes. While environmental and quality management have been incorporated into EHSQ management roles for quite a while, the positive pressure from stakeholders and the public with regard to sustainable corporate governance will continue to shape the profession. Organizations are increasingly committed to an integrated responsibility management in which environment, social and governance (ESG) go hand in hand.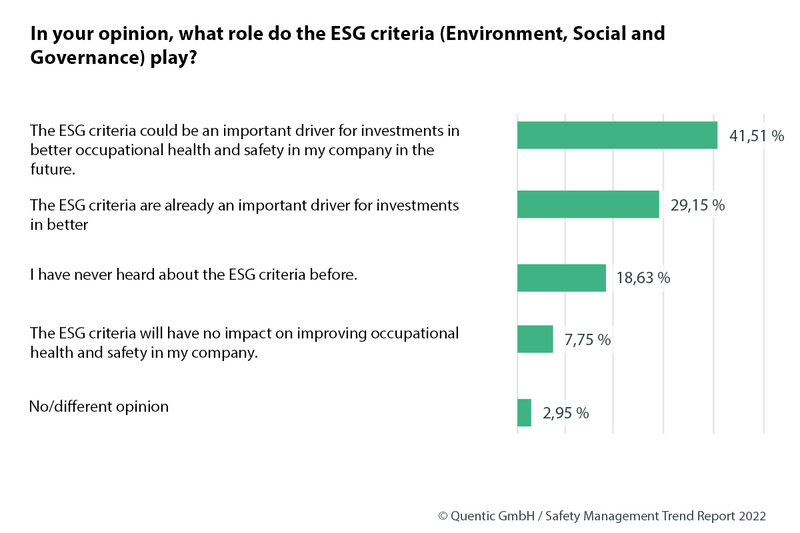 This is a great opportunity for occupational health and safety because, in the context of the ESG criteria, an integrated EHS strategy is a vital cornerstone for corporate success. The overlaps range from working in a generally sustainable way to taking responsibility for ensuring that measures to protect people and the environment are observed throughout the entire production process. In this respect, ESG criteria are also driving investments in occupational health and safety. This development is already clearly noticeable in large companies. However, environmental, social and governance factors are also gaining ground in medium-sized and smaller companies. For safety and EHS professionals, this means that they must continue to develop new areas of expertise and further consolidate their flexibility and readiness to learn in order to actively drive forward safety management from a holistic perspective.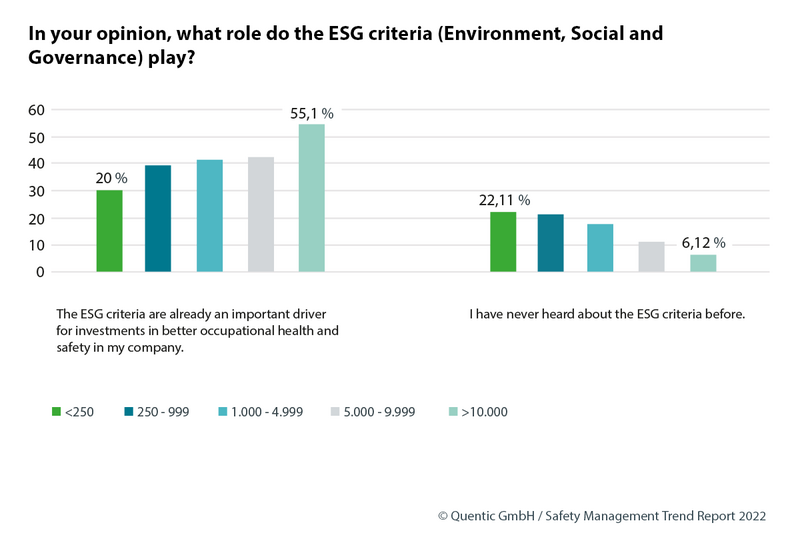 The Safety Management Trend Report can be downloaded for free at www.quentic.com/safety-trends. Other important topics covered in the industry report include:
Safety Leadership: Leadership competencies as an important key to success in OSH
Safety culture: Communication and focus give wings to safety culture
"People over procedure & policies!" - Interview with David Cant
And much much more!
Press pictures
Cover Page and Diagrams for download (ZIP archive)
About Quentic
Quentic is one of the leading solution providers of Software as a Service (SaaS) for HSEQ and ESG management. The Quentic platform comprises ten individually combinable modules and offers an ideal way for companies to manage Health & Safety, Risks & Audits, Incidents & Observations, Hazardous Chemicals, Control of Work, Legal Compliance, Online Instructions, Processes, Environmental Management and Sustainability. The portfolio is complemented by the Quentic App for mobile reporting and by Quentic Analytics for powerful HSEQ data analysis using clear and daily updated dashboards. Over 900 companies rely on Quentic software solutions to strengthen their organization's HSEQ management and responsibility-related areas in Environment, Social and Governance (ESG). The integrative software is also suited to supporting comprehensive management systems in compliance with ISO 14001, ISO ISO 45001 and ISO 50001.
The company is headquartered in Berlin, Germany, and employs more than 250 people. Branch offices are located in Germany, Austria, Switzerland, Finland, Sweden, Denmark, Belgium, the Netherlands, France, Spain and Italy.