About EcoWebDesk
HSE and CSR management in a single system
Operational HSE and CSR management has evolved into a complex world of regulations and responsibilities. Receiving, documenting, evaluating and transmitting information: that's everyday life for experts.

With EcoWebDesk, you have complete control over health and safety as well as environmental, energy and sustainability management. This means that makeshift isolated solutions, the chaos of multiple lists and endless tables are now a thing of the past. In the online software, all HSE and CSR processes can be merged, structured and standardized. EcoWebDesk cross-links everything – via your desktop or the app.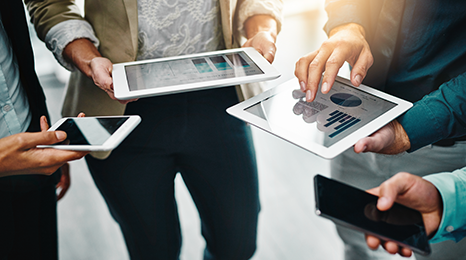 It's all about teamwork
Include everyone involved as necessary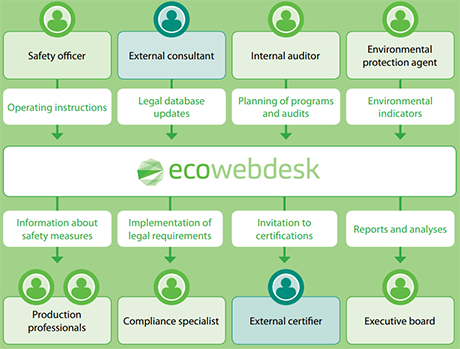 The software solution is designed to support managament systems in accordance with ISO 14001, ISO 50001 and ISO 45001. With eight modules, EcoWebDesk comprises Health & Safety, Risks & Audits, Hazardous Materials, Legal Compliance, Online Instructions, Process Management, as well as Environment and Sustainability. Users can pick and choose from the various software modules to create a flexible system. This gives them a customized solution that is precisely tailored to their needs.

The greatest benefits of the system come from the numerous cross connections. They allow work steps to be interlinked across departments, locations, and even beyond the confines of the company.
In the fast lane with EcoWebDesk
One software – many advantages
Business advantage: data and documents are always consistent, well-structured and up-to-date. Tasks become more transparent and the persons responsible for each tasks are flexibly included. Personalized overviews show each user what they need to know in their own area. Evaluations and reports can also be created with just a few clicks. Forwarding via the system is easy and saves time, just like assigning tasks.
Customized company structures can be accurately re-created in EcoWebDesk. Because legal regulations are always up-to-date and measures can be derived from these in a structured manner, users can verifiably reduce their liability risk.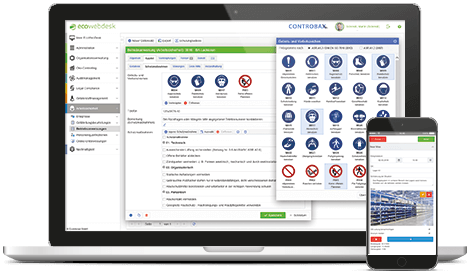 EcoIntense and EcoWebDesk are becoming Quentic
Our new powerful brand
EcoIntense GmbH is one of the leading software specialists for HSE and CSR in Europe. The company's managing directors are Markus Becker, Sebastian Mönnich and Hardy Menzel. The company is solving the user's increasingly complex scope of tasks with clarity, orientation and simplicity. More than 150 employees work together with customers to meaningfully contribute to society, individuals and the environment.
EcoIntense GmbH is certified in accordance with DIN EN ISO 9001 and DIN ISO/IEC 27001. The company is headquartered in Berlin. Other subsidiaries and partners are located in Germany, Austria and Switzerland, as well as in Finland, Denmark, the Netherlands and the USA.
Our name may have changed, but you can rely on our products and contact partners just as always. Since October 11, 2018, the software EcoWebDesk and the associated app NordSafety have shared the unified name Quentic. The companies EcoIntense and NordSafety have also been renamed Quentic.
With this step, we have completely and internationally merged our product worlds and corporate worlds under a single umbrella. Learn more about the brand change here.