With Quentic, you can coordinate third party and visitor instructions with ease. Temporary fixes, tangled lists and endless spreadsheets are all things of the past.
Coordinate all training courses with ease in Quentic, even for a high number of third parties. The central software solution improves your flexibility: make multi-media learning content available that every visitor can access from the guest terminal in the company or from a tablet. Would you already like to instruct third parties before their arrival? By sending a link, the instruction can be accessed and completed conveniently on the road. Anytime, anywhere and clearly documented in Quentic.
The learning content is centrally stored and linked to lesson plans. Third parties can access their instruction from the guest terminal or conveniently on the road.
Presenting information in a visually appealing way increases motivation and leads to better learning results. Quentic's online training provides you with everything necessary to achieve this. You can adapt existing presentation slides or create new content. Embed images, videos and SCORM content and create a multi-media learning experience. The complete instruction package can easily be made available to others and features a user-friendly interface.
Each third party instruction is followed by comprehension questions to test learning outcomes. The person in charge of online training determines the content. Successful participants can receive a certificate as proof of attendance. Quentic also automatically keeps track of which qualifications a person has achieved, and uses this data to manage future dates, meaning that there is no need to document the results manually.
Whitepaper ISO 45001
The new norm for health and safety management systems is replacing the previous standard OHSAS 18001. Learn more about how you can benefit from implementing ISO 45001, fulfill requirements and get your organization certified.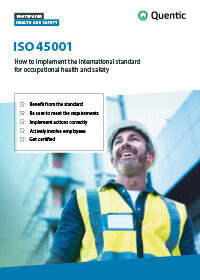 Quentic in 2 minutes
HSE for everyone. Digital and a perfect fit.
Discover how Quentic makes your EHS and CSR management easier and brings everyone involved together. The web-based software supports you competently in all tasks in the areas of occupational safety, environmental protection and sustainability.
Digital documentation, organization, evaluation — with Quentic you save time and structure your processes in a structured and comprehensible manner.
Quentic Demo
Test Quentic free of charge and without obligation.
"Quentic enables us, as a global enterprise, to standardize environmentally relevant processes and to create maximum transparency. This pays off for us both environmentally and economically."
Andreas Mayer, Head of Environment and Sustainability Management, Alfred Kärcher GmbH
Satisfied customers are our best reference