With the SDG reporting software Quentic, you can present your company's contribution to the UN Sustainable Development Goals precisely and clearly. Whether it is your production processes and their upstream chains, or the sustainability impact of your products at your customers—in the software platform, you define suitable indicators, record data from your business areas and companies, and show how your company is implementing the global development targets is working.
You can evaluate your social, ecological, and economic impacts in the individual fields of action of the Agenda 2030 (hand and footprint) qualitatively and quantitatively. You can access standardized frameworks such as GRI, or map the effects of your operations and products by means of key figures and/or impact descriptions. This is not just about the reduction of negative but also the strengthening of positive influences by your business activity. All participants are connected by a common platform, which consolidates all data and information. The quality of the content is ensured through release processes and automatic validations.
What about your influence on global working conditions, climate change and sustainable production patterns and consumer styles? With Quentic, you have a web-based standard tool for analyzing, monitoring and reporting your company's cause and gap with regard to the most important sustainable development goals. In each area, make actual, target and benchmarking indicators and evaluate them in combination.
Integrate non-financial indicators and your ongoing business reporting to help you understand the interactions of your business performance with the SDG goals. Cross indicators and ratio key figures help you to balance your business and sustainability strategy. In doing so, you do not need to enter anything in duplicate—integrate relevant financial data from your controlling systems and link them to your environmental and social indicators at operational and strategic levels.
For each business area and process, measures can be derived and combined into programs and objectives based on the measured and described effects on the SDG fields of action. Monitor the positive or negative effects of individual measures or business developments at any time, and use this as a basis to establish a strategic program that aligns your organizational objectives with the relevant SDGs.
Ensure not only the effectiveness of your deployment for the SDGs but also the efficient use of your efforts and resources. Monitor the expenses and costs associated with individual measures and strategies with correspondingly linked indicators. In this way, you can also compare several scenarios for different contributions to a goal in terms of benefit and effort, thus identifying the socioeconomically most efficient approach.
Whitepaper Sustainability Management
12 Key areas to benefit your business with structured sustainability management. Ways to systematically exploit stakeholder demands and influence as well market opportunities and how to align your corporate actions.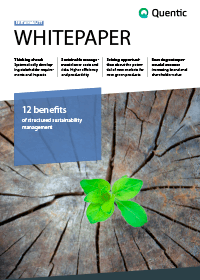 Quentic Demo
Test Quentic free of charge and without obligation.
Satisfied customers are our best reference