Imagine you could create your Work method statement and Safe work method statement (SWMS) online in minutes. Using Quentic software you can. Give specific instructions on how to safely perform a work related task now digital and easier than ever. All incidences of Occupational safety and health (OSH) fields can be covered by the system. Advice employees and work according to your workplace safety plan.

There will be a time and a place for all method statements, no matter in which sector you are working. Cover Method statement intent, location of works, description of works and appointed people all in one 100% customizable online solution. Advise employees, outline hazards, provide detailed guidance and carry out tasks safely!

Save time and money
Accurate and up-to-date overview of internal processes
Provide proof that you're carrying out tasks safely and legally
Increased productivity
Effective working environment
Competitive edge
Matching title
Brief description of the work to be carried out
Your company details, logo, name, address etc
Start date, completion date
Site address
Site contact details including emergency numbers etc
Document author, H&S contact
Document number, issue date, revision date, revision number etc
Whitepaper ISO 45001
The new norm for health and safety management systems is replacing the previous standard OHSAS 18001. Learn more about how you can benefit from implementing ISO 45001, fulfill requirements and get your organization certified.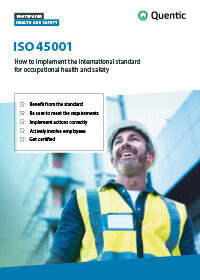 Quentic in 2 minutes
The tailor-made solution for your organization
Quentic is the ideal solution for your health and safety, environmental protection and sustainability management. Expertly grounded, the web-based software knows your tasks and unites all of the functions that you need.
Quentic Health & Safety Software assists you with all HSE and sustainability processes. Documenting, organizing, evaluating – with Quentic you're done in a jiffy.
Satisfied customers are our best reference