Use Quentic unique and customizable electronic risk assessment tool to digitize your risk assessment system. Temporary fixes, tangled lists and endless spreadsheets are all things of the past as Quentic combines everything in one to make integrative management a reality.

Quentic central software solution helps you to identify and assess potential risks in your company online. Instantly take protective measures to prevent more effective than ever. Risk assessments for work and hazardous (hazmat) materials are created in minutes. All online. With a single mouse click, necessary safeguards can be determined easily. Let people receive relevant risk training. Thus, you consistently improve the current working conditions!
Imagine you could evaluate a production process or assess the working environment online. Thanks to Quentic you can. Our risk assessment tool supports you with executing all the steps of a risk assessment online and 100% customizable. Using Quentic, you can document and assess risks, determine safeguards and thus reduce the potential for accidents and hazards to health!
Create, share and edit risk assessments easily online. Every employee can participate in the assessment process, adding valuable expertise. All your data located in one place, available as you need it!
Customizable dashboard lets you schedule employees in for training on risk assessments online. Immediately see whether risk training has been completed and automatically create certifications!
Prevent risk assessments from expiring online. Send notifications via email to employees when risk assessment needs to be completed again or renewed. Assign and track actions to employees. Create and report on actions for control measures that are not in place!
Quentic in 2 minutes
The tailor-made solution for your organization
Quentic is the ideal solution for your health and safety, environmental protection and sustainability management. Expertly grounded, the web-based software knows your tasks and unites all of the functions that you need.
Quentic Health & Safety Software assists you with all HSE and sustainability processes. Documenting, organizing, evaluating – with Quentic you're done in a jiffy.
Whitepaper ISO 45001
The new norm for health and safety management systems is replacing the previous standard OHSAS 18001. Learn more about how you can benefit from implementing ISO 45001, fulfill requirements and get your organization certified.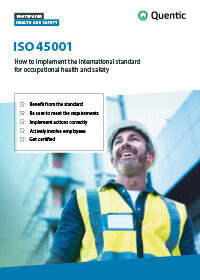 Satisfied customers are our best reference