With Quentic, you will have your risk analysis completely under control. Temporary fixes, tangled lists and endless spreadsheets are all things of the past as Quentic combines everything in one to make integrative management a reality.
The central software solution helps you to identify and assess potential risks in your company even more efficiently than before. A risk analysis for work and hazardous chemicals are created in minutes. With a single mouse click, all the necessary safeguards for current risks can be determined. Thus, you consistently improve the current working conditions.
Thanks to Quentic, you can document and assess risks, determine safeguards and thus reduce the potential for accidents and hazards to health. Are you planning to evaluate a production process or assess the working environment? No problem at all, as Quentic supports you with executing the usual seven steps of risk assessment.
Are your operating instructions still up-to-date? You can use Quentic to generate and update operating instructions. Select the desired information from a database of warning phrases and signs, and the document will be ready in minutes. This standardized procedure ensures consistency and clear directions for everyone involved.
With just a few clicks, you can access required data—including safeguards—and make the completed documents available to your colleagues. You can also set up individual user accounts for all involved parties, enabling you to directly include internal and external specialists and experts.
Whitepaper ISO 45001
The new norm for health and safety management systems is replacing the previous standard OHSAS 18001. Learn more about how you can benefit from implementing ISO 45001, fulfill requirements and get your organization certified.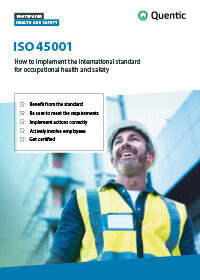 Get your free consultation
Satisfied customers are our best reference