Fully evaluate and give standard approvals for work done with hazardous chemicals, at heights or involving risk of electrocution
Many workplace hazards arise from activities being conducted improperly.
Permits to Work can remedy this and minimize the risk of an accident. But creating permits to work is often tedious and time-consuming. With Quentic, you can use existing data to easily and efficiently create permits to work.
Imagine if you could organize non-routine work safely and efficiently and making your maintenance work run more smoothly, by:
Easily creating permits to work in Quentic
Conducting approvals and protecting them from tampering
Minimizing risk of accident, property and environmental damage
Defining safeguards and LOTO measures
Showing all upcoming work clearly and transparently
_____________________________________________________________

With Quentic, you can create vital permits to work in next to no time, for activities such as:

•    Hot Work
•    Electrical permits for high voltage work
•   Working at heights
•    Working in explosion risk zones
•    Working in confined spaces, like containers and silos
•    Working on pipelines
•    Working with ionizing radiation 
•    Crane/aerial work
•    Permit for tank coating
•    Demolitions
•    Excavation
Quentic is the professional software solution that lets you digitize and tamper-proof your work approval processes. 
Whitepaper Contractor Safety Management
When companies choose to outsource work, they are still liable for health and safety. A safety management system supported by EHS software is an essential best practice for handling the safety risks associated with having contractors on a work site.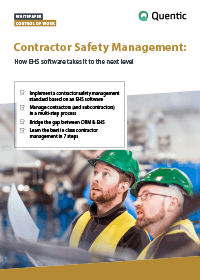 Quentic in 2 minutes
EHS for everyone. A custom-fit, digital solution.
Discover how Quentic can make EHS and CSR management easier and connect everyone centrally. The web-based software offers reliable support for all tasks in the field of occupational safety, environmental protection and sustainability.
Document digitally, organize, evaluate – Quentic saves you time and helps give processes a clear and understandable structure.
Request a personalized demo
Satisfied customers are our best reference