With Quentic, you will have your incident management completely under control. You are on the safe side when it comes to dangerous situations and accidents. Temporary fixes, tangled lists and endless spreadsheets are all things of the past as Quentic combines everything in one to make integrative management a reality.
Thanks to the central software solution Quentic, you can document critical incidents such as personal damages, property damages or dangerous situations directly. You can immediately analyze the causes and derive corrective actions in order to avoid future occurrences of similar incidents. In case an accident is notifiable, you can generate a mailable notice of accident with minimum effort and send it to the responsible occupational health and safety agency. The evaluation of the accident indicators, e. g. lost working days per employee, severity rate or frequency rate, provides a good overview within the company. The sophisticated access rights concept, which protects sensitive data, leaves nothing to be desired.
Whitepaper ISO 45001
The new norm for health and safety management systems is replacing the previous standard OHSAS 18001. Learn more about how you can benefit from implementing ISO 45001, fulfill requirements and get your organization certified.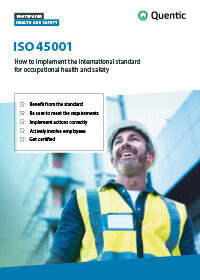 Quentic in 2 minutes
HSE for everyone. Digital and a perfect fit.
Discover how Quentic makes your EHS and CSR management easier and brings everyone involved together. The web-based software supports you competently in all tasks in the areas of occupational safety, environmental protection and sustainability.
Digital documentation, organization, evaluation — with Quentic you save time and structure your processes in a structured and comprehensible manner.
Quentic Demo
Test Quentic free of charge and without obligation.
Satisfied customers are our best reference