Quentic is the right answer to your audit process. Temporary fixes, tangled lists and endless spreadsheets are all things of the past as Quentic combines everything in one to make integrative management a reality.
During the continuous inspection and improvement of company processes, the central software solution provides flexibility, reliability and efficiency. It supports you in all the phases of an audit, from planning and execution to the identification and solving of nonconformities. This integrated system can help you and your colleagues save time and energy.
Having a clear plan is half the battle: Thanks to the audit management software, keep track of all upcoming audits and site inspections and organize each with minimal effort. It is easy to select a question catalog and add more questions if necessary. Audit participants can be registered with the click of a mouse and automatically informed by email. Simply print the question list and take it with you to the location for a well-prepared audit!
Once the audit has been performed, you can record the results in a predetermined form. This ensures that all information is consistent and easy to read. In case action points are identified during the assessments, you can initiate corrective measures directly in Quentic and instantly delegate them to the responsible parties. Audit reports can be generated with the click of a mouse and include multiple options for adding charts and figures.
Set the course for your department by using Quentic management programs. You can set realistic goals by determining single objectives and initiating the actions required; ensuring every person involved knows exactly what to do and can find all relevant information within the system. Current progress can easily be monitored using the program's overview on the interface.
What is the quality of your occupational safety? How much do your production processes impact the environment? Using the Risks & Audits module, important aspects for your company can be identified for regular assessment. Decide which parameters contribute to a certain aspect by taking into account the very specifics of each case. This allows you to establish an assessment platform for significant results, including a defined assessment matrix.
Whitepaper ISO 45001
The new norm for health and safety management systems is replacing the previous standard OHSAS 18001. Learn more about how you can benefit from implementing ISO 45001, fulfill requirements and get your organization certified.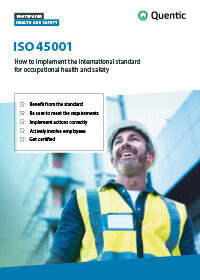 Quentic in 2 minutes
HSE for everyone. Digital and a perfect fit.
Discover how Quentic makes your EHS and CSR management easier and brings everyone involved together. The web-based software supports you competently in all tasks in the areas of occupational safety, environmental protection and sustainability.
Digital documentation, organization, evaluation — with Quentic you save time and structure your processes in a structured and comprehensible manner.
Obtain your ISO certification with Quentic!
Satisfied customers are our best reference