With the Quentic sustainability software, you can be sure that you are on the right track for reporting. Makeshift isolated applications and endless tables are a thing of the past. Quentic brings everything you need, and makes integrative sustainability management real.
The central software solution helps you evaluate the social, ecological, and economic areas of action of your company. Create the foundation for communication with your stakeholders and connect all participants through a common platform. Quentic improves the information exchange and the company-wide cooperation and bundles all the characteristics of different disciplines.
What about climate protection, working conditions, and supply chains? Determine which sustainability aspects apply to your company and how they should be analyzed. Standardized indicator catalogs, for example, according to GRI, serve as a solid basis, which can be supplemented by individual parameters. You can create complex key figures in the formula editor by mouse click for the automatic calculation.
If you want to report something, plan centrally and in the long term. If necessary, use the practical email function to inform the responsible persons immediately. This is how you create clear responsibilities, without having to make separate arrangements. In order to keep track of which reporting tasks are forthcoming and how much ongoing reporting has progressed, use the clear reporting plan.
If a colleague is assigned to the reporting, he does so directly from his personal overview. Since all parties involved can transmit their data in parallel, regardless of location and time, the work division is perfectly organized. The standardized approach ensures consistent and reliable data. This means that the characteristics of all specialist areas are combined completely, directly, and comprehensibly.
After the collected information has been released, you must carry out the processing. A wide range of analyzes compile the desired content for you from different perspectives. This simplifies the derivation of strategic decisions and targeted follow-up actions. The resulting tables and diagrams serve as an illustrative basis for the sustainability report to the various stakeholders.
Whitepaper Sustainability Management
12 Key areas to benefit your business with structured sustainability management. Ways to systematically exploit stakeholder demands and influence as well market opportunities and how to align your corporate actions.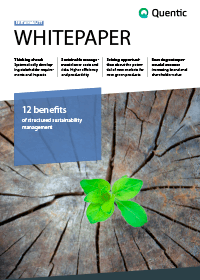 Quentic Demo
Test Quentic free of charge and without obligation.
Satisfied customers are our best reference