With Quentic, the software for safety officers, you will have health, safety and environmental management completely under control. Temporary fixes, tangled lists and endless spreadsheets are all things of the past as Quentic combines everything in one to make integrative management a reality.
The central software solution is tailor-made for the HSE field and guarantees that company-wide data is routinely structured and updated, which saves time. Quentic is structured so flexibly that it can easily be integrated into the specialized processes you already have in place for your organization. Company-specific elements such as locations, plants and business units can be perfectly included and represented so that your information is completely usable.
Whitepaper ISO 45001
The new norm for health and safety management systems is replacing the previous standard OHSAS 18001. Learn more about how you can benefit from implementing ISO 45001, fulfill requirements and get your organization certified.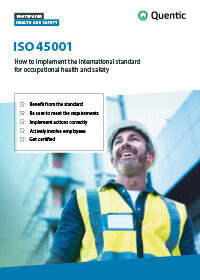 Quentic in 2 minutes
HSE for everyone. Digital and a perfect fit.
Discover how Quentic makes your EHS and CSR management easier and brings everyone involved together. The web-based software supports you competently in all tasks in the areas of occupational safety, environmental protection and sustainability.
Digital documentation, organization, evaluation — with Quentic you save time and structure your processes in a structured and comprehensible manner.
Quentic Demo
Test Quentic free of charge and without obligation.
Satisfied customers are our best reference