With Quentic, you will have your safety data sheets completely under control. Temporary fixes, tangled lists and endless spreadsheets are all things of the past as Quentic combines everything in one to make integrative management a reality.
The central management of safety data sheets is easier than ever with the central software solution. The software Quentic automatically reminds you to update in accordance with predefined cycles. You can even generate an update request to the manufacturer or supplier in no time. New safety data sheets are easily added, and the document version control ensures that content changes are transparent and traceable.
In Quentic, you can document all working and hazardous materials as well as hazardous goods in a consistent and well-structured manner. Defining individual substances of content and labelling hazardous materials in accordance with GHS is done with just a few clicks. The hazmat list allows for a quick overview. You can use filters to find the required materials instantly, which displays all their characteristics and scopes at a glance.
Need to check the purpose of a hazardous material? You can organize the required statements about application and approval to determine which material may be used for which purposes with the software. Quentic collects and bundles all information and marks materials in accordance with their clearance, allowing you to have control over the entire process. Additionally, Quentic monitors the storage and transportation of materials to help avoid improper handling. The necessary transport documents for hazardous goods, by road, rail or boat, are issued to you in compliance with the regulations.
Quentic generates risk assessments and operating instructions quickly and easily. With just a few clicks, you can access required data and make the completed documents available to your colleagues. You can also set up individual user accounts for all involved parties, enabling you to directly include internal and external specialists and experts.
Whitepaper ISO 45001
The new norm for health and safety management systems is replacing the previous standard OHSAS 18001. Learn more about how you can benefit from implementing ISO 45001, fulfill requirements and get your organization certified.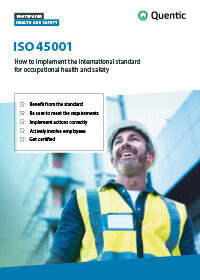 Quentic in 2 minutes
HSE for everyone. Digital and a perfect fit.
Discover how Quentic makes your EHS and CSR management easier and brings everyone involved together. The web-based software supports you competently in all tasks in the areas of occupational safety, environmental protection and sustainability.
Digital documentation, organization, evaluation — with Quentic you save time and structure your processes in a structured and comprehensible manner.
Manage your SDS & MSDS now!
Satisfied customers are our best reference