With Quentic, you will have your hazardous material database completely under control. Temporary fixes, tangled lists and endless spreadsheets are all things of the past as Quentic combines everything in one to make integrative management a reality.
The central software solution simplifies the management of working and hazardous materials significantly. It assists you in meeting legal requirements, minimizing organizational efforts and provides you with a maximum of transparency in terms of managing hazardous materials. You can document all working and hazardous materials as well as hazardous goods in a consistent and well-structured manner in one hazardous material database. Defining individual substances of content and labelling hazardous materials in accordance with GHS is done with just a few clicks. For a quick overview, you can use filters to find the required materials instantly, which displays all their characteristics and scopes at a glance.
Whitepaper ISO 45001
The new norm for health and safety management systems is replacing the previous standard OHSAS 18001. Learn more about how you can benefit from implementing ISO 45001, fulfill requirements and get your organization certified.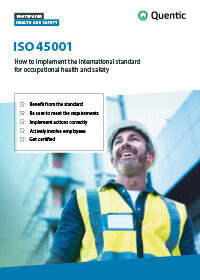 Quentic in 2 minutes
EHS for everyone. A custom-fit, digital solution.
Discover how Quentic can make EHS and CSR management easier and connect everyone centrally. The web-based software offers reliable support for all tasks in the field of occupational safety, environmental protection and sustainability.
Document digitally, organize, evaluate – Quentic saves you time and helps give processes a clear and understandable structure.
Try Quentic 14 days for free
Satisfied customers are our best reference